Heated Driveways for Buffalo and Surrounding Areas
BUFFALO WEATHER FACTS AND STATS
Buffalo's coldest month is January when the average temperature overnight is 17.8°F.
Average annual snowfall is 94 inches.
Heaviest snowfall: 199.4 inches in 1976-1977.
Average daily high temperature December thru March is 34.5 degrees Fahrenheit.
The annual high temperature is 56.3°F.
The annual low temperature is 40.2°F.
December is the snowiest month of the year, averaging 27 inches.
For a snow melting system to perform effectively in Buffalo, New York, it must be specifically designed to meet the demands of Buffalo winters. Warmzone has been providing professionally designed snow melting systems to homeowners and businesses in New York for well over a decade, so we know what it takes to keep a driveway in Buffalo clear of snow and ice during the winter.
In addition to offering the industry's most highly regarded snow melting systems and components, Warmzone stands alone when it comes to customer services. Our experienced design team carefully evaluates the demands of each snow melting system to provide the ideal layout and technical information for each installation. We understand that industry-best components are not enough. Every system must be designed and installed correctly to ensure that the system performs as intended. For this reason Warmzone provides free installation training for installers. Needless to say, this valuable service can ultimately save time and money in the long run. And free installation support is also included with each snow melting system.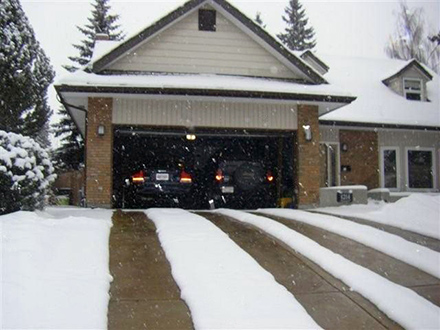 If your installer has any questions or concerns during the installation, he/she can call Warmzone and speak to an expert who will guide them through the issue at hand. We are committed to providing unmatched service throughout the purchase and installation process. And we have a network of reputable installers in the Buffalo area that we can recommend. This way customers can have their system installed by professionals who have experience, or have been trained, in radiant heat installations.
For over a decade ClearZone snow melting systems have proven to be an industry leader. ClearZone radiant heat cable features twin conductor heat cable with single point connection, and can be installed in concrete and hot asphalt applications (as well as under pavers). The cable is also available pre-spaced in mats for easy "roll out" installation.
ClearZone snow melting systems are fully automated and maintenance free. When the sensor detects precipitation and the temperature is below a set point (typically 39°F) it sends a signal to the controller, which then sends power to the embedded heat cable, warming the driveway. Instead of waking up early to shovel snow, Buffalo residents can enjoy a cup of hot coffee as they gaze out at their clear, snow-free driveway. Call and talk to a radiant heat expert to learn more about the options that are available. Warmzone can customize your snow melting system to meet you snowmelt and budget needs. Call 888.488.9276 today.