Buffalo Area Heated Floors
Finding the System that's Best for You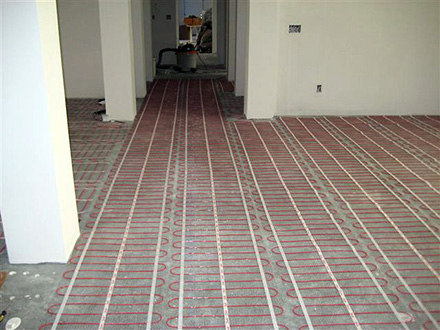 As a trusted industry leader, Warmzone is committed to offering customers the widest selection of proven radiant floor heating solutions available. Unlike some providers that try to pressure customers to purchase their single offering, Warmzone works with consumers to determine their specific needs and then recommend the system that will best meet those demands. Having a large variety of floor heating options helps to ensure that customers are matched with the system that provides the best results for their home and flooring.
Buffalo residents have a wide variety of floor heating options to choose from:
ComfortTile
As our most popular floor heating solution, ComfortTile has proven itself to effectively and reliably heat several floor types. The system features thin floor heating cable (⅛-inch in diameter) that can be purchased on spools or pre-spaced on an adhesive-backed mesh for quick, easy installation.
Prodeso® Membrane Floor Heating System
The floor heating system features a unique membrane that is installed over the subfloor and then ComfortTile heat cable is installed in the channels provided in the membrane. The floor heating system has a minimal floor buildup of ¼ inch. The Prodeso system serves as an uncoupling, crack isolating and waterproof membrane and can be installed quickly and easily.
In-Slab (SlabHeat)
In-Slab heat cable features rugged construction designed for installation in concrete slabs. The cable is secured to the remesh during installation and then the concrete is poured. Concrete slabs efficiently store and transfer heat, making In-Slab floor heating systems very energy efficient.
Low-voltage FloorHeat STEP
The low-voltage FloorHeat STEP is especially effective for heating laminate and hardwood floors. The flexible polymer heating element is self-regulating, so it is very efficient and won't overheat. And because the semi-conductive polyethylene heating element is so thin there is virtually no floor buildup. This durable radiant heating system is also used for roof deicing applications.
FilmHeat & RetroHeat
FilmHeat floor heating systems feature a paper-thin "film" heating element (0.016-inch think) that can be installed directly under laminate and other types of flooring. The element is installed by floating it on top of the underlayment and then placing the floor covering on top of the film. No alarms, no special tools, no self leveling compounds are needed.
This system can also be used to heat existing floors. By accessing the floor joists from below, the heating element can be stapled up between the joists and then Batt insulation is installed to direct all the heat upwards. This is an affordable and effective means for heating existing floors.
FoilHeat
The FoilHeat floor heating system features fluoropolymer insulated heating cables that are sandwiched between two layers of specially reinforced aluminum foil. The thin electric radiant floor heating system is designed for use under laminate, cork, engineered wood and other floating floors. This system is easy to install and proven to be an excellent value for providing affordable heat for a variety of floor types.
HeatShield Insulation Panels
The HeatShield floor heating system provides extremely efficient heat for laminate and engineered wood flooring. The ½-inch thick polystyrene insulation panels are covered with thin, specially profiled aluminum to maximize downward insulation and upward heat distribution to reduce energy consumption.
The lightweight aluminum HeatShield Panels conveniently snap together across the length of the floor. The panels have pre-cut grooves for the heat cable, ensuring accurate spacing and allowing you to use the industry's most trusted heat cables (ComfortTile) without the use of mortar and thinset.
Quality Systems and Components
All Warmzone floor heating systems come with state-of-the-art controls and sensors. In addition to the most advanced and proven components, Warmzone includes unmatched customer services. Each system is carefully designed to best meet the customers' needs, and Warmzone includes free installation training and installation support. And Warmzone can recommend an experienced installer in the Buffalo area to help ensure the quality of your installation. When it comes to premier products and superior customer service, Warmzone can't be beat.
For more information on radiant floor heating systems, call 888.488.9276 and talk with a friendly radiant heat expert and see what floor heating system is best for you.